DIACOMIT®—developed specifically for Dravet syndrome1
Proven, effective seizure relief1,2
Dravet syndrome can be resistant to treatment, with multiple therapies and dosing adjustments often needed for adequate seizure control.3
DIACOMIT is a chemically unique antiepileptic drug developed through the Biocodex research program, approved for patients with Dravet syndrome age 6 months and older (weighing 15 lb or more) as add-on therapy to clobazam when seizures are not adequately controlled.1,4 There are no clinical data to support the use of DIACOMIT as a monotherapy in Dravet syndrome.1
The most common adverse reactions were somnolence, decreased appetite, agitation, ataxia, decreased weight, hypotonia, nausea, tremor, dysarthria, and insomnia.1
20 years of real-world use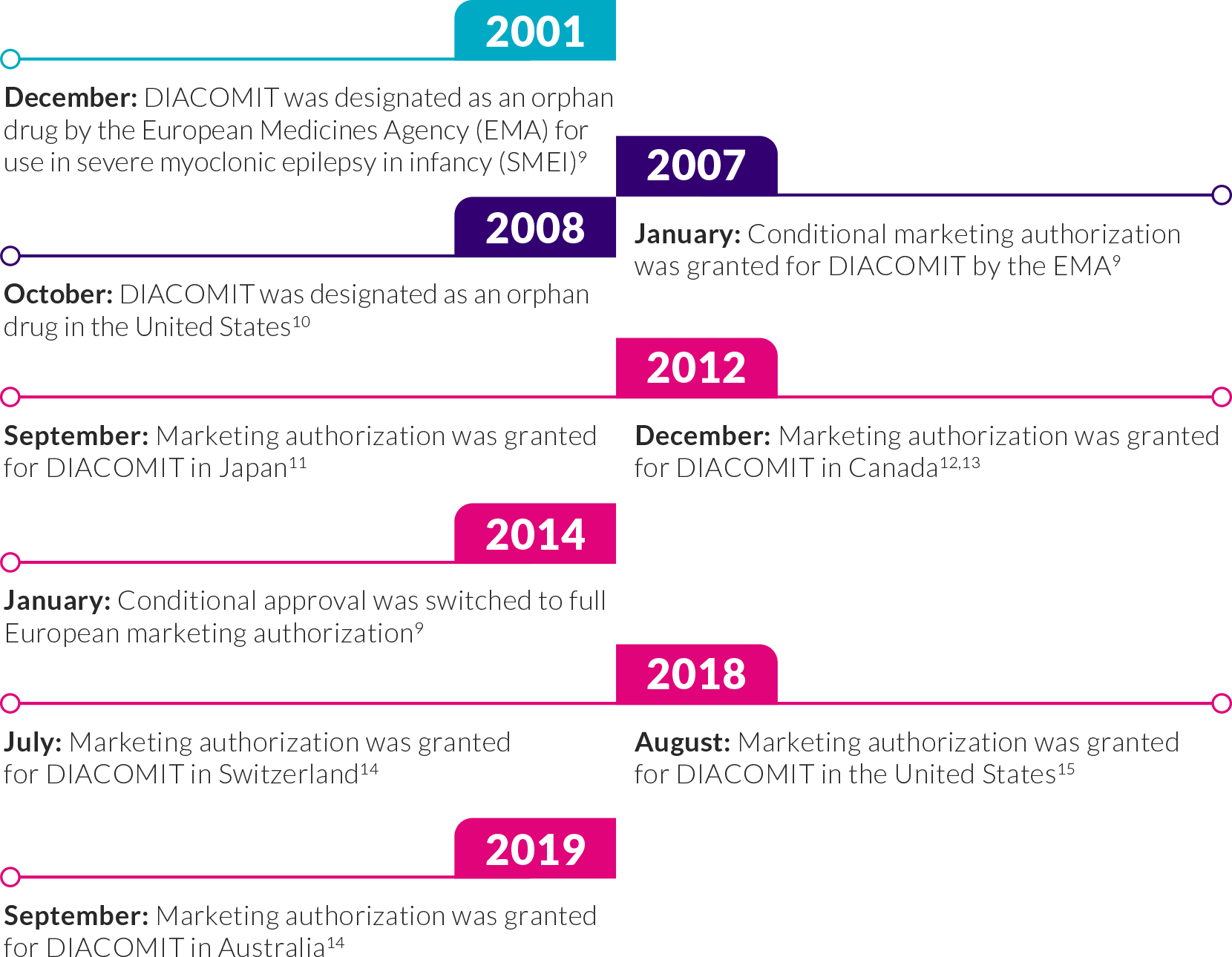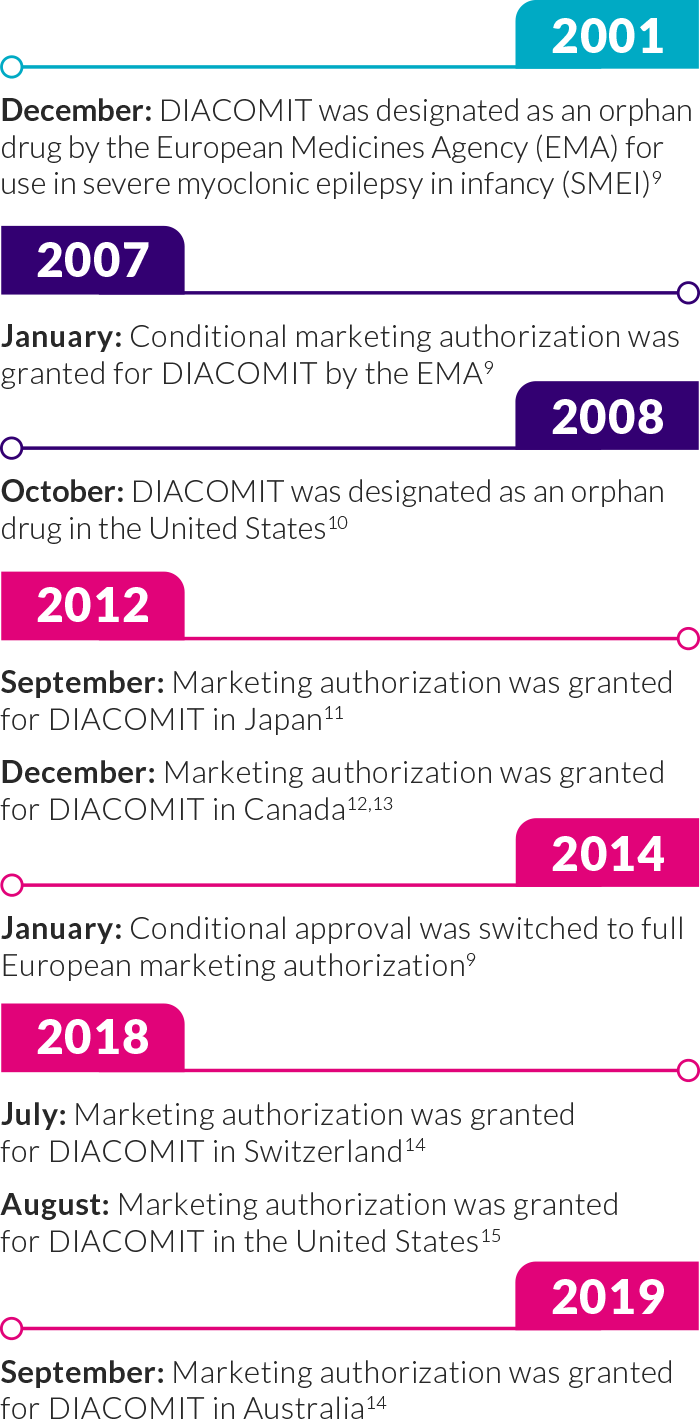 An opportunity to significantly reduce seizure frequency1,2
Proven efficacy in pivotal studies1,2,16
DIACOMIT is the first antiepileptic drug to have clinically demonstrated efficacy in Dravet syndrome in 2 multicenter, double-blind, placebo-controlled, randomized trials.1,16 In these trials, patients with Dravet syndrome experienced significantly fewer seizures with DIACOMIT compared with placebo.2
Efficacy: significant seizure reduction across 2 clinical trials2,*
In two clinical trials,

71% and 67% of patients

responded to DIACOMIT1
43% and 25% of patients reported no generalized clonic or tonic-clonic seizures by the end of the second month of treatment1,7
Patient characteristics1:
3 to <18 years of age
Confirmed diagnosis of Dravet syndrome
Inadequately controlled on clobazam and valproate
Suffering from ≥4 generalized clonic or tonic-clonic seizures per month, despite optimized therapy
Primary endpoint1: responder rate†
Secondary endpoint1: mean change from baseline in frequency of generalized clonic or tonic-clonic seizures
Study Design: The efficacy of DIACOMIT was established in two multicenter, randomized, double-blind, placebo-controlled studies conducted according to similar protocols. Patients and/or caregivers recorded the frequency of generalized clonic or tonic-clonic seizures during the study period.1

*STICLO France and STICLO Italy were multicenter, randomized, double-blind, placebo-controlled trials conducted according to similar protocols. The Italian study was performed after the French study and provided comparable results.1,2
†Response was defined as experiencing a >50% decrease in the frequency of generalized clonic or tonic-clonic seizures during the treatment period compared with baseline.2,7
‡Seizure freedom was defined as experiencing no generalized clonic or tonic-clonic seizures for the duration of the study.1,6
Mechanism of action
The mechanism by which DIACOMIT exerts its anticonvulsant effect in humans is unknown. Possible mechanisms of action include direct effects mediated through the gamma-aminobutyric acid (GABA)A receptor and indirect effects involving inhibition of cytochrome P450 activity with resulting increase in blood levels of clobazam and its active metabolite.1
Dosing and administration1
DIACOMIT is available in 250 mg and 500 mg dosages, in 2 convenient dosing forms: capsules and fruit-flavored powder packets to be mixed in water.

The recommended oral dosage of DIACOMIT is 50 mg/kg/day, divided into 2 or 3 separate doses daily, with a maximum total dosage of 3,000 mg/day. Dose is dependent on your patient's age and weight. DIACOMIT is indicated for patients 7 kg (or 15 lb) or more.

In the event of a missed dose, DIACOMIT should be taken as soon as possible. If it is almost time for the next dose, patient should not take the missed dose. Doses should not be doubled.
Adverse reactions and patient management1
The most common adverse reactions, occurring in ≥10% of patients treated with DIACOMIT and more frequently than placebo, include:
Somnolence (67%)
Decreased appetite (45%)
Agitation (27%)
Ataxia (27%)
Decreased weight (27%)
Hypotonia (24%)
Nausea (15%)
Tremor (15%)
Dysarthria (12%)
Insomnia (12%)
Disease characteristics and treatment
Dravet syndrome is a rare, lifelong epileptic syndrome that usually begins in the first year of life, when a normally developing infant presents with frequent, prolonged seizures.3,17-19 Because it is a spectrum disorder, patients present with a wide range of seizure types with varying responses to treatment.20 The primary goal of Dravet syndrome treatment is to reduce the frequency, length, and types of seizures.21
About Dravet syndrome
Dravet syndrome was first described in 1978 as severe myoclonic epilepsy in infancy (SMEI) by Dr. Charlotte Dravet.19
As it was discovered that not all of the original clinical signs were present in every patient, the diagnostic criteria were expanded.22
In 1989, the name of the epilepsy syndrome was changed from SMEI to its current name: Dravet syndrome.22
Dravet syndrome diagnosis in toddlers and younger children*
For children suffering from seizures, understanding the underlying cause is important in selecting the right treatment for the patient. Earlier treatment could potentially contribute to better long-term outcomes.21
Initial presentation of Dravet syndrome includes21
Typical seizure onset between 1 and 18 months
Recurrent generalized tonic-clonic or hemiconvulsive seizures
Myoclonic seizures are typically seen by age 2 years. Obtundation status, focal dyscognitive seizures and atypical absences are also typical but usually occur after age 2 years. Typical absences and epileptic spasms are atypical
Hyperthermia, which may be associated with vaccination or illness, triggers seizures in the majority of patients; other triggers may include flashing lights, visual patterns, bathing, eating, and overexertion
Normal development and neurological examination at onset
Normal MRI and nonspecific EEG findings at onset
Because the patient's initial brain scan may appear normal or their symptoms might present as a different form of epilepsy, many children with Dravet syndrome are misdiagnosed at first. For that reason, while not 100% conclusive, genetic testing is highly recommended.21
Genetic testing is available at no cost for children up to the age of 8, and for as little as $250 thereafter, through the Behind the Seizure® program at Invitae.com.
Genetic causes of Dravet syndrome:
Dravet syndrome is most often caused by a mutation in the SCN1A gene21
SCN1A is involved in transmitting signals between nerve cells28
The SCN1A mutation is seen in at least 75% of all Dravet syndrome patients21
Some patients will have a mutation in the gene and not have seizures; other patients might have seizures that look like Dravet syndrome without the mutation3
Around 5%-10% of cases are inherited, meaning that one of the parents will test positive for the same SCN1A gene mutation17
Infrequently, other genetic mutations may be associated with Dravet syndrome. There have been a number of other genes identified that are associated with Dravet syndrome: SCN2A, SCN8A, SCN1B, HCN1, GABRA1, GABRAG2, PCDH19, CHD2, STXBP1. Genes not yet identified may be involved as well3,29
Dravet syndrome presentation in older children, teens, and adults3,21
The symptoms of Dravet syndrome may change over time; however, the following characteristics may be seen in older children, teens, and adults:
Persisting seizures: focal and/or generalized convulsive seizures; often myoclonic, focal, atypical absence, and tonic seizures. Recurrent status epilepticus and obtundation status become less frequent, and may not be seen in teens and young adults
Hyperthermia as a seizure trigger may become less common
Seizure exacerbation may occur with the use of sodium channel blocking agents
Intellectual disability is evident by 18-60 months of age and persists into adulthood
Neurological exam abnormalities, which include ataxia, hypotonia, and impaired dexterity, are evident by age 3-4 years
An MRI is typically normal, but it may show mild generalized atrophy and/or hippocampal sclerosis
Genetic testing can still be helpful to confirm diagnosis
Lifestyle support for patients with Dravet syndrome
Helping patients, caregivers, and families meet life's challenges
Every family will have a different experience with Dravet syndrome, so it is important for them to recognize their child's individual needs and to design a lifestyle around them. Creating routines, adhering to medication regimens, avoiding seizure triggers, and having regular communication with their HCPs are all ways to help families successfully manage Dravet syndrome.
Living with Dravet syndrome
Dravet syndrome and its management have an impact on almost every aspect of life, complicating simple daily activities and making it difficult to make spontaneous plans.
Download the Navigating Life with Dravet Syndrome booklet to provide useful information for patients and their families.
After diagnosis, patients and caregivers should be given information on30
Genetic counseling and reproductive implications
Medication management
Ways to reduce exposure to seizure triggers
Seizure and trigger tracking
How to respond to seizure emergencies
The risk of SUDEP and seizure-related accidents
Developmental outcomes and expectations
Dietary and other supportive treatments
Care resources and local support groups
Educational support
Resources for patients and caregivers
Direct caregivers to take advantage of the expanding collection of resources. Families can read about Dravet syndrome, discover new ways of helping their child navigate life, or find support groups to connect with other families affected by Dravet syndrome.
Building a support system
Managing a rare disease like Dravet syndrome can cause caregivers and families to feel lonely and isolated. Seeking support and community from friends, family, or other caregivers can help when times are difficult or when they need a reminder of their successes.